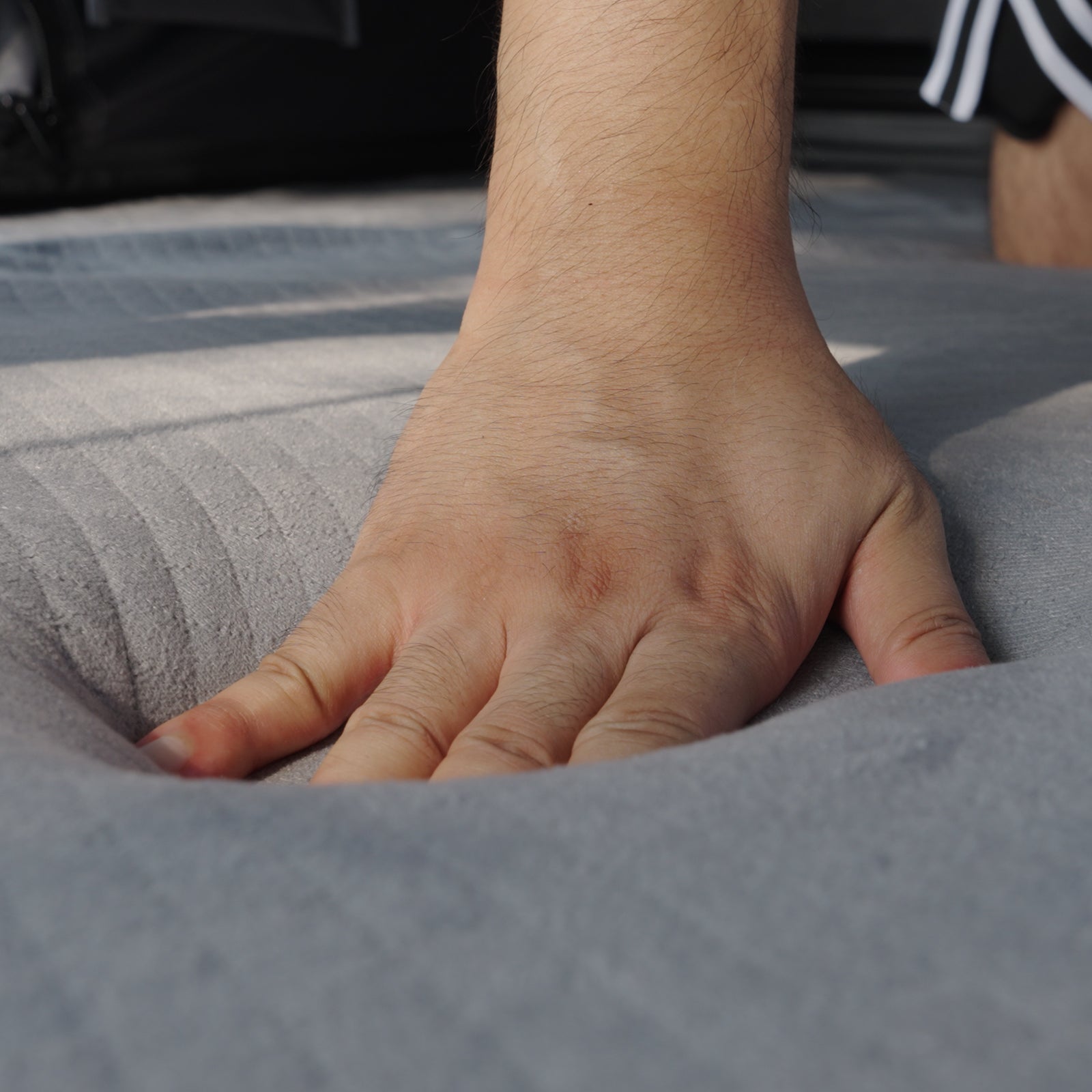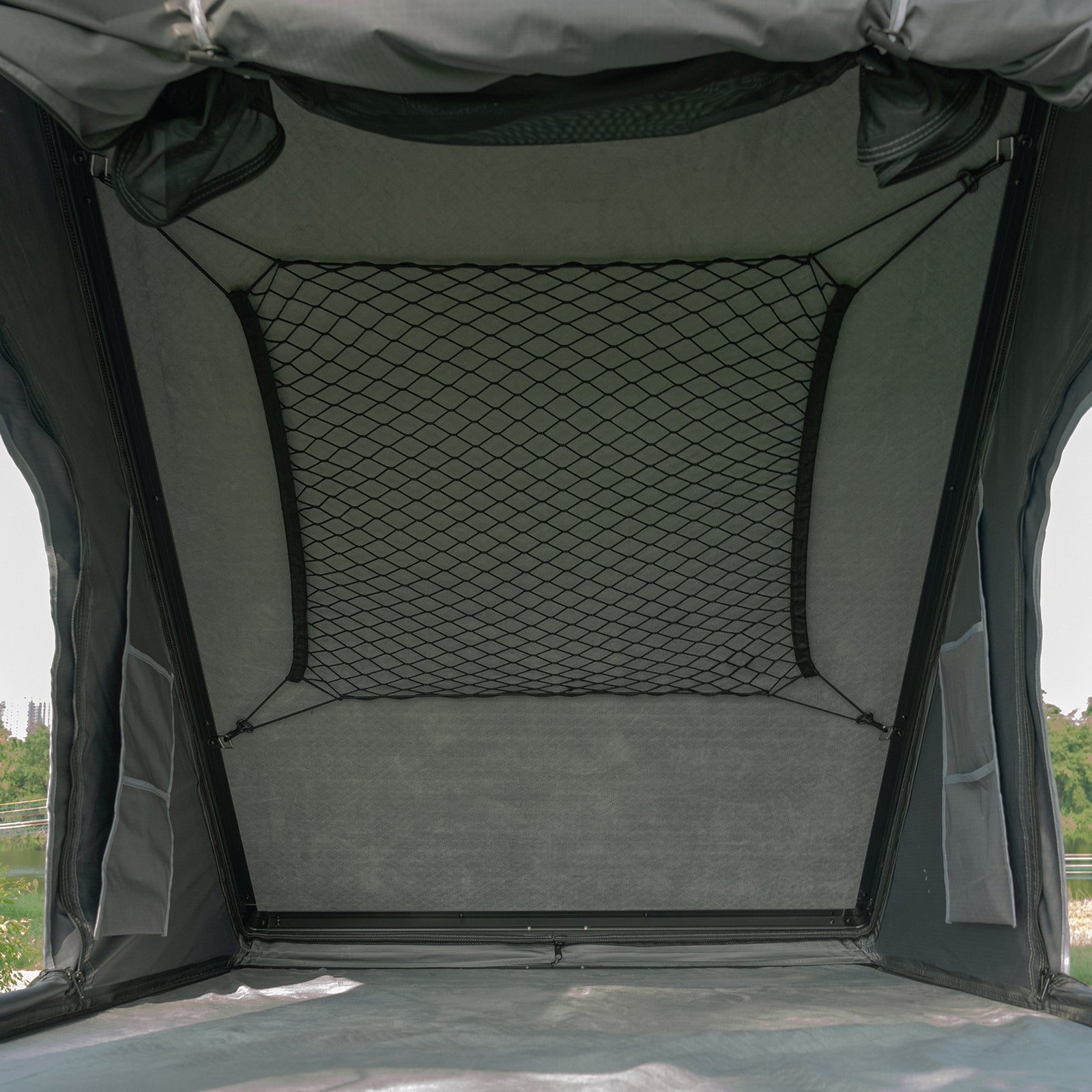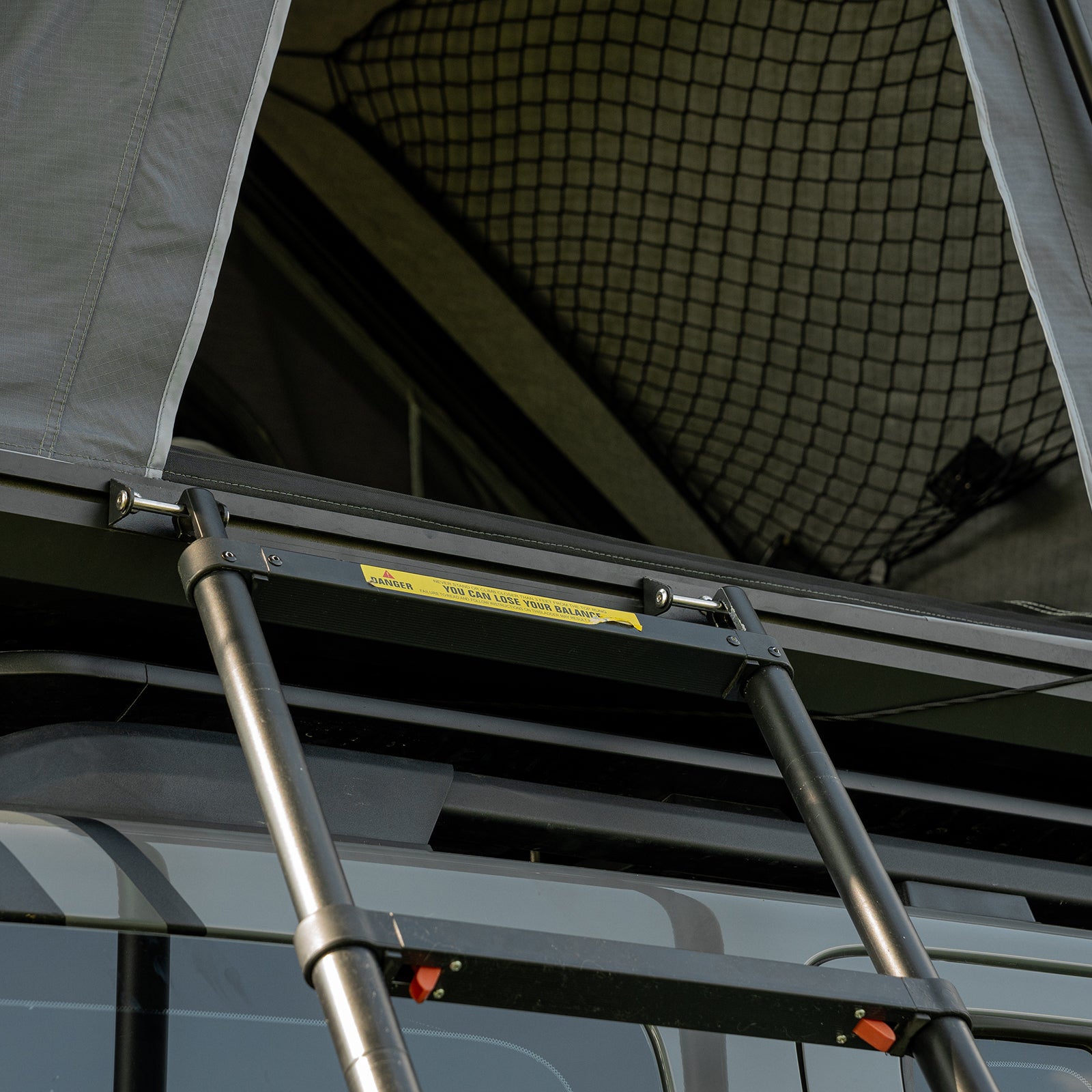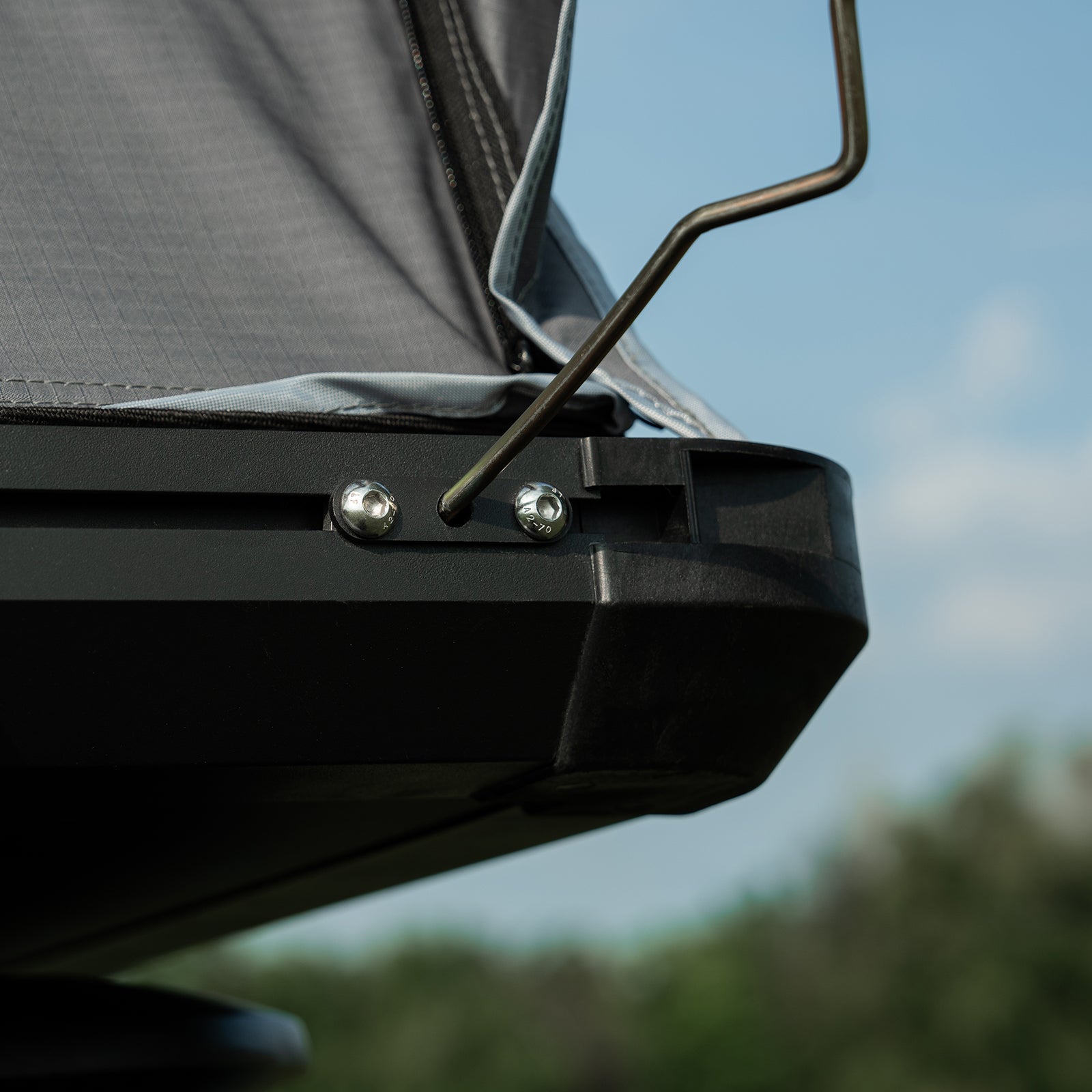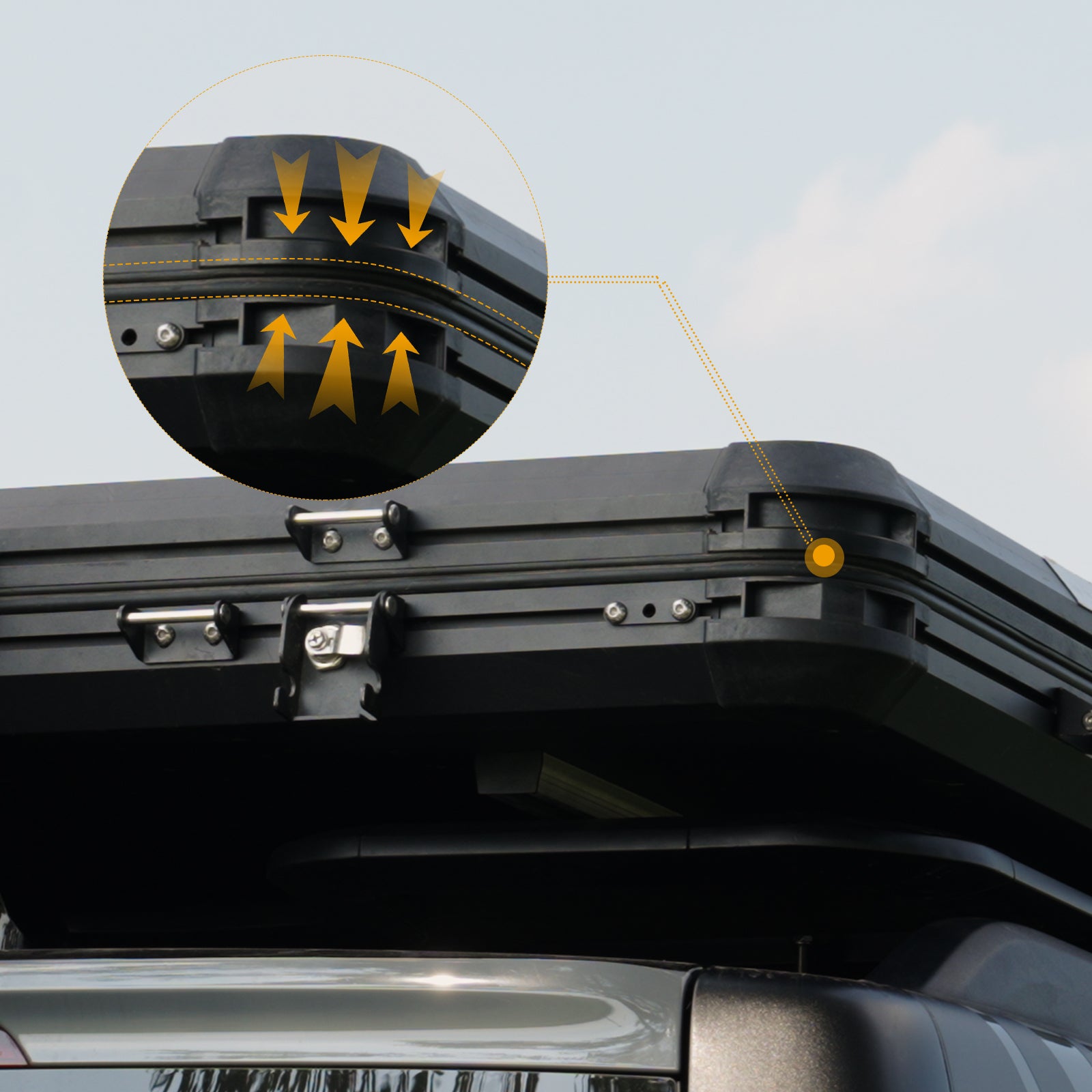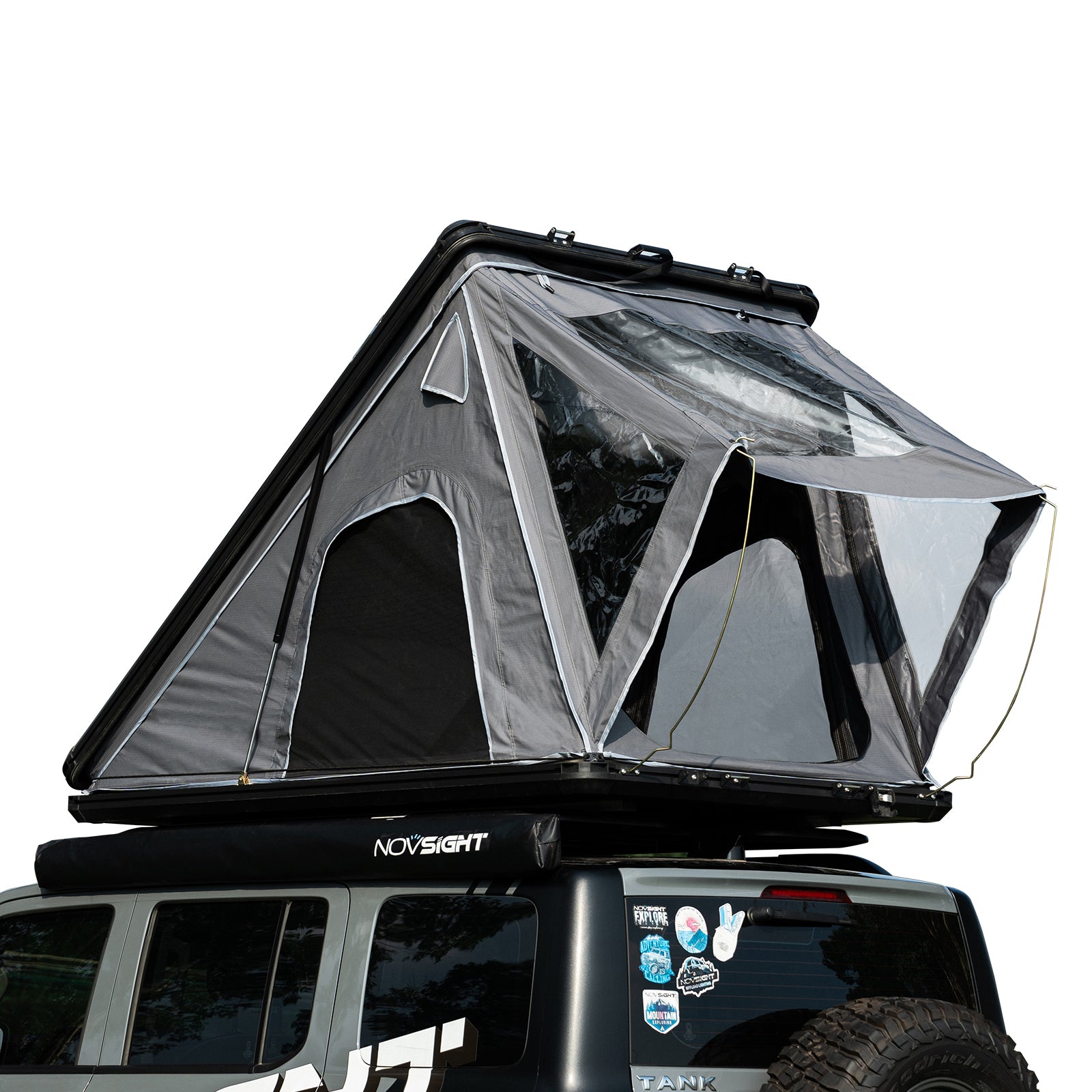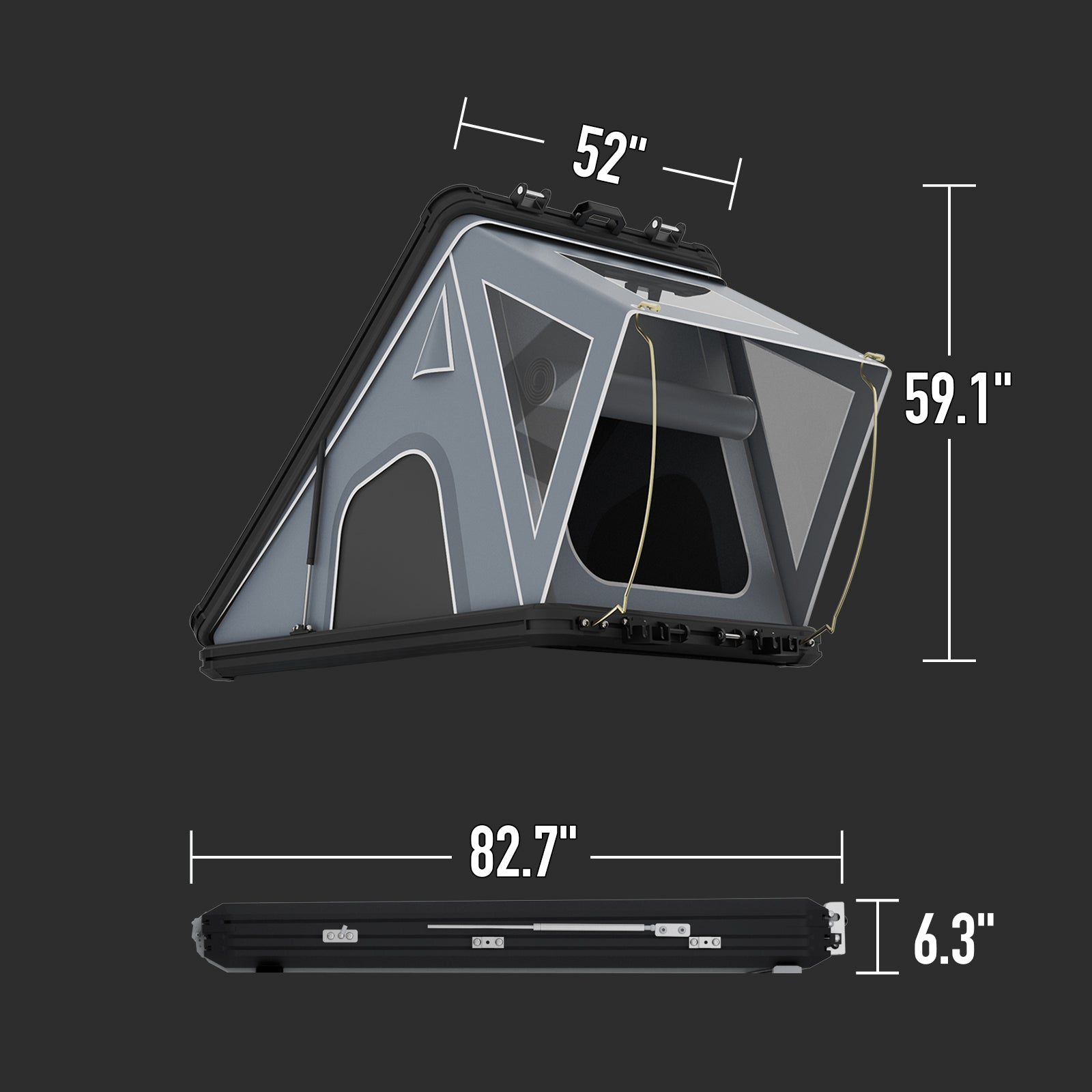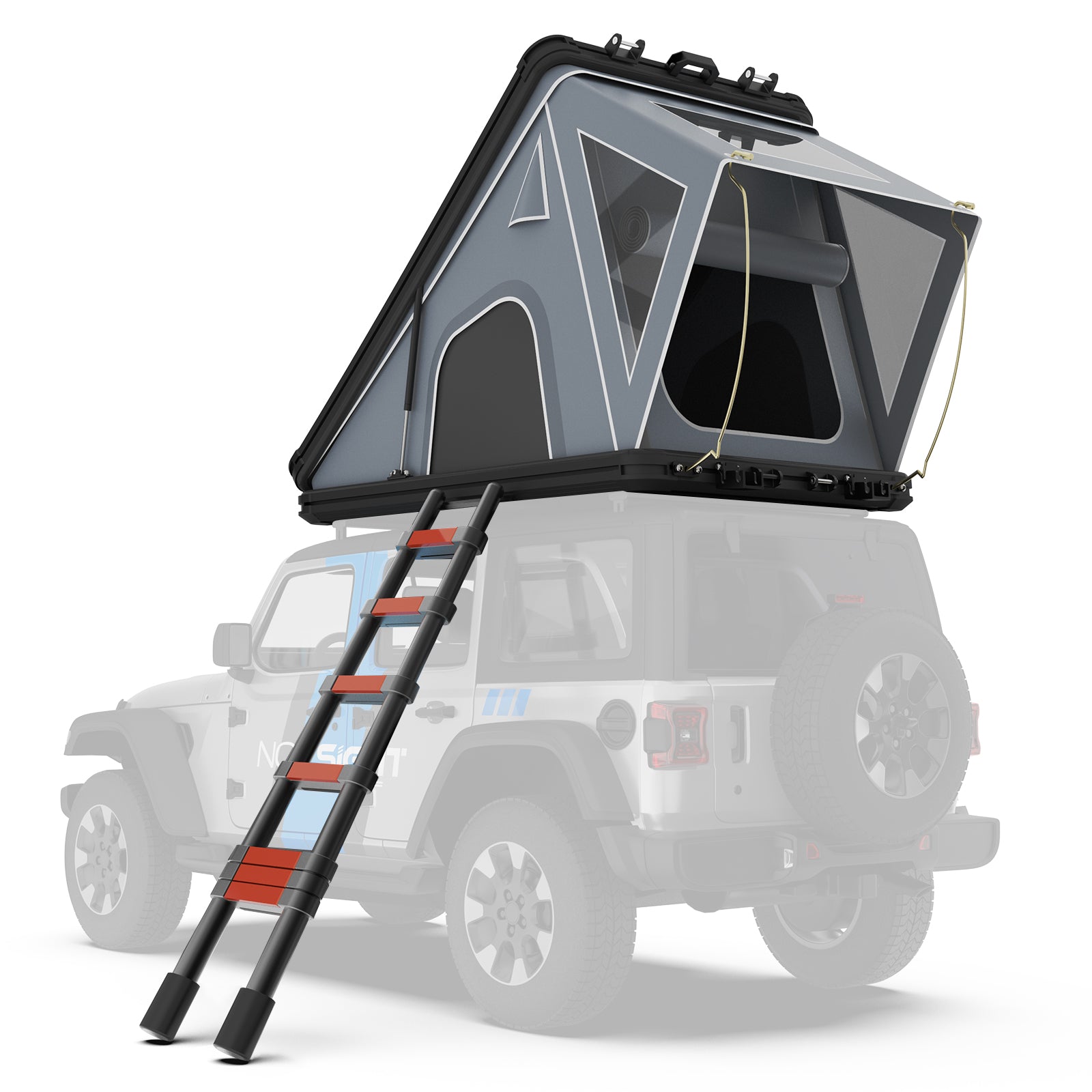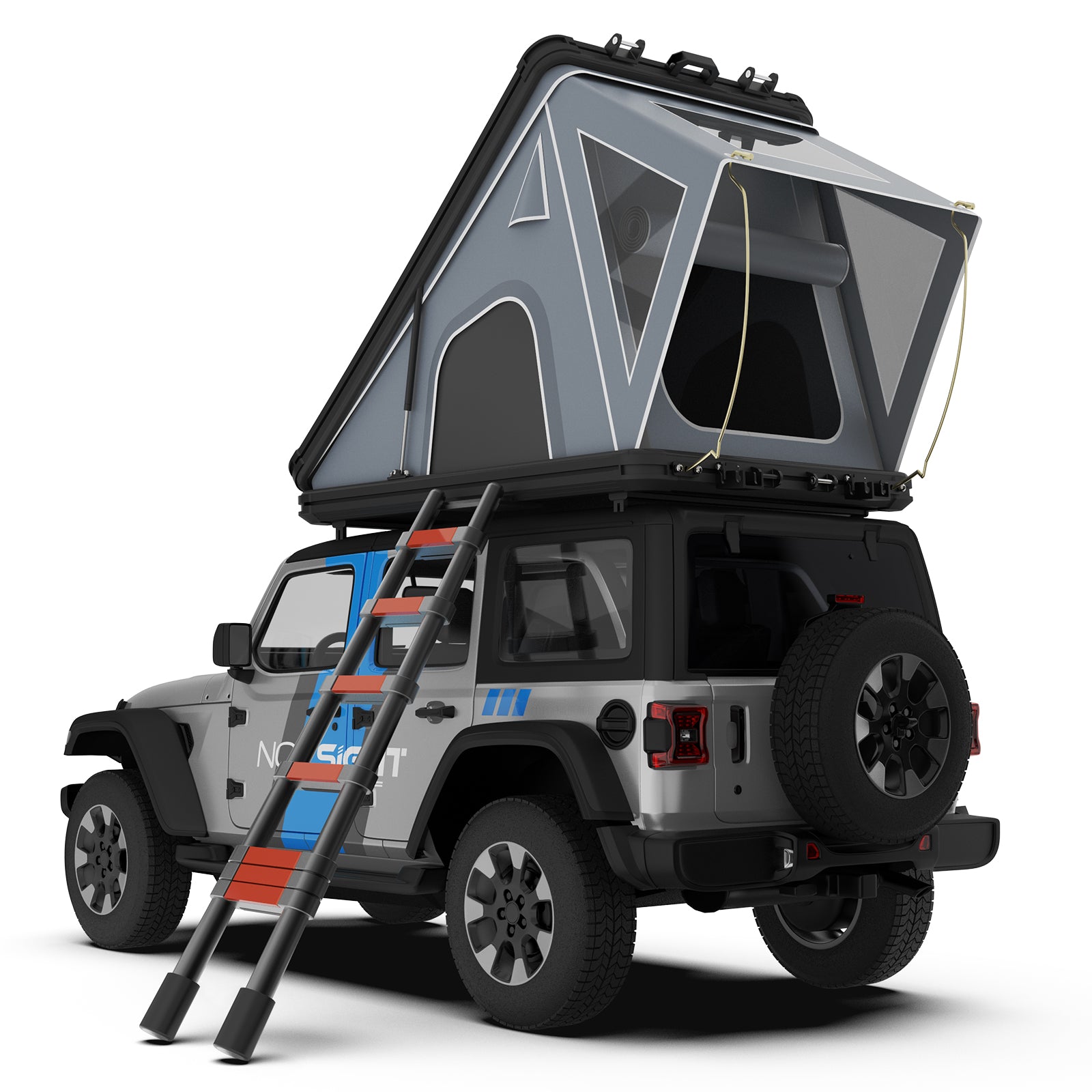 Novsight Rooftop Tent Hard Shell Off-road Camping Lightweight Tent 2–3 people for Cars JEEP Trucks and SUVs
SKU: A500-RTT-02
---
Note: Products will be shipped in November
Lightweight RTT Specification
√ 6-Month Warranty
√ 45-Day Easy Return
√ Process Orders Within 48 Hours
√ U.S. Local Truck Free shipping to your home

Note: Product tax is included, rooftop tents are only available in the US.
U.S. Local Truck Free shipping to your home
We will ship your order within 1-3 business days after receiving your payment.

1. We select the best delivery company based on your order address
2. The delivery company picks up your order from our warehouse
3. You are expected to receive your order within 3-7 working days, and the package will be delivered safely to your door (please make sure your mobile phone is open)

For more information about the Rooftop Tent Shipping. Click here>>
We stand behind the quality of our products and offer a limited warranty for our car roof tents. This warranty covers any defects in materials or workmanship under normal use during the warranty period. The warranty period starts on the date of purchase and lasts for 6-Month

For more information about the Rooftop Tent Warranty. Click here>>
Ready for Adventure - Enjoy the Ultimate View of Nature!
Novsight Rooftop Tent - A rooftop tent for any challenge and any condition. Novsight is designed for adventurers who want to see more of the world.

Whether you're traveling alone or with the family, you'll enjoy spacious, comfortable, and clear floor space that's bug-free. With our special transparent window design, you can lay back and watch the sunrise and starry sky. Waterproof in all directions, allowing you to adventure freely without worrying about the weather.
Novsight Rooftop Tent features
NOVSIGHT roof tent is a professional tent designed by professional designers for outdoor travel and camping. For a quality test, Novsight camped for a month and was convinced of the quality of the tent.

Our spacious and comfortable rooftop tents are perfect for camping with family and friends. With its air strut pop-up design, it only takes seconds to open the hard shell of the roof tent with a hydraulic lever.

No need to worry about finding the right campsite or dealing with the discomfort of sleeping on the ground. The NOVSIGHT Roof Tent is a waterproof hard shell roof tent for SUVs, trucks, jeeps and more
Impeccable quality and design
Rooftop Tent Specification
What is in the package?
5 cm sponge cushion;
Tent related: ( Locks installed on the tent*2, Wire seat*6,Ladder hook*6, Hanging shoe cover hoop*2, Handle*1, key*2)
Accessories: ( shoe cover*1, Steel wire*2, Ladder*1)
Installation package (plastic plug*4, stair frame*4, parallel piece*4, slide piece*8, hexagonal wrench*1, 10/13 wrench*2, short screw with nut*8, long screw with nut* 8, subject to the actual object)
Installation guide manual Click Here
Installation guide video Click here
Mattress height
5 cm/1.97 Inch (Removable sponge cover)
Dimensions open
210*132*150 cm /82.7*52* 59.1(Inch)
Dimensions closed
210*132*16cm /82.7*52*6.3(Inch)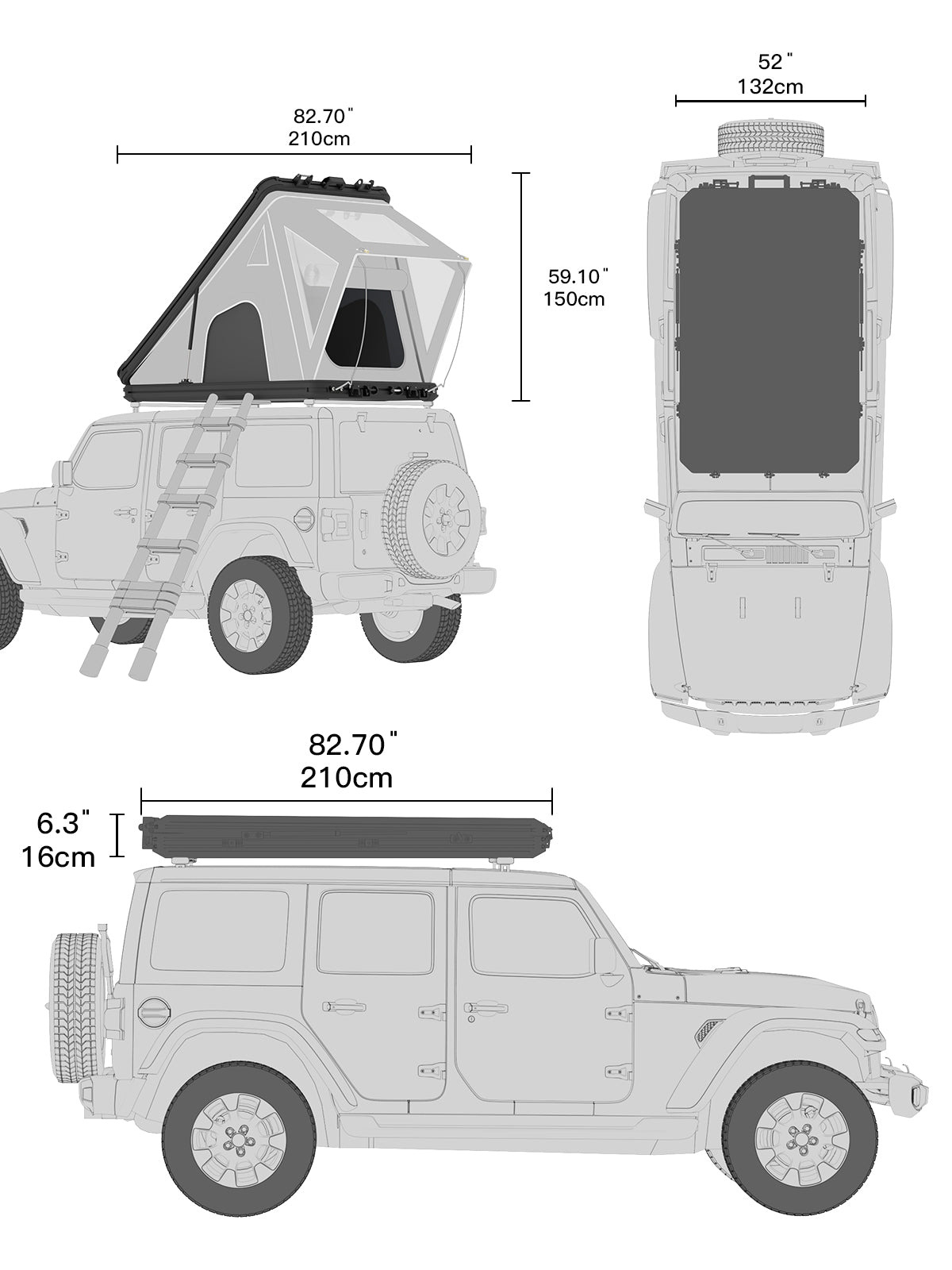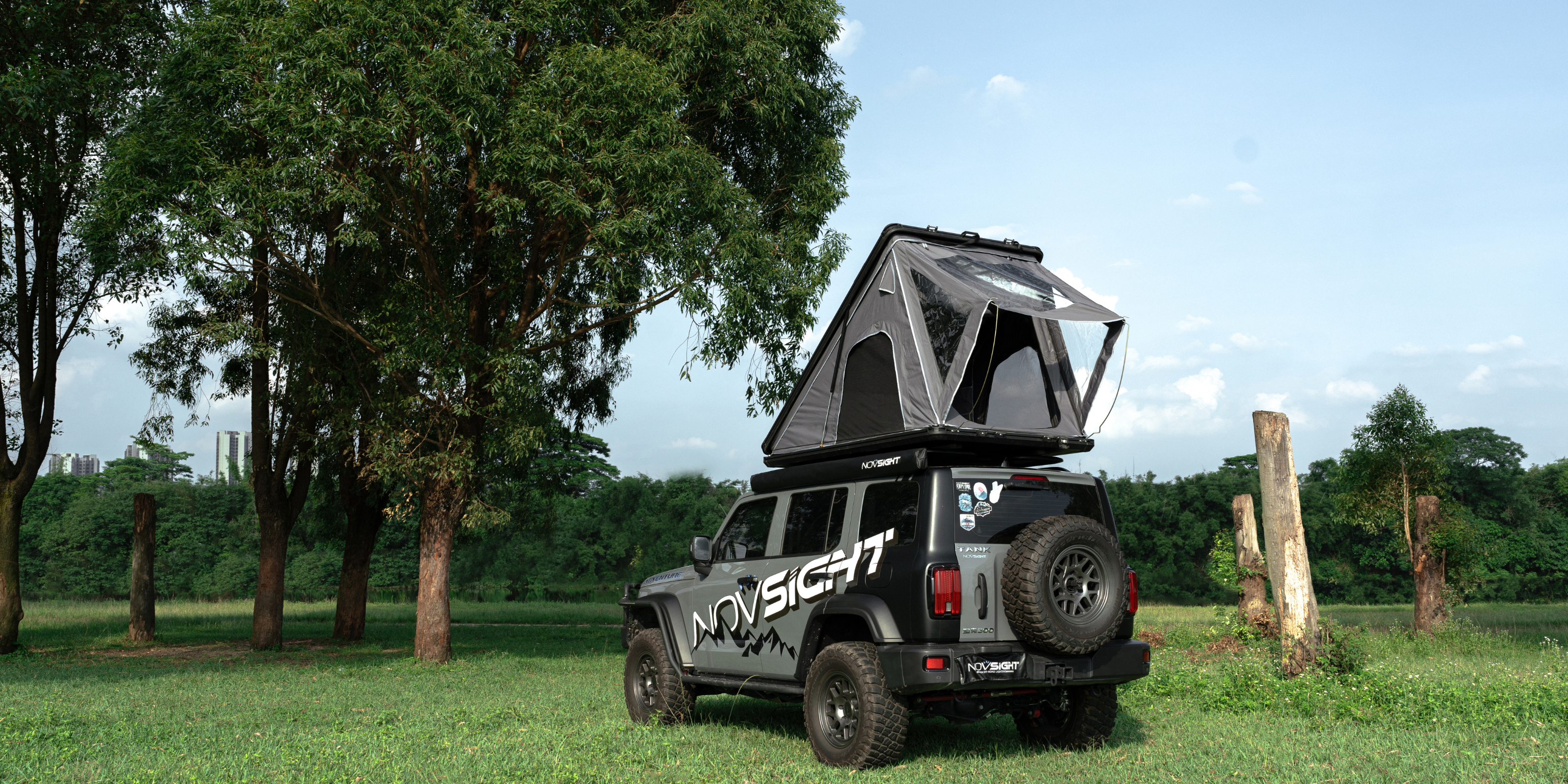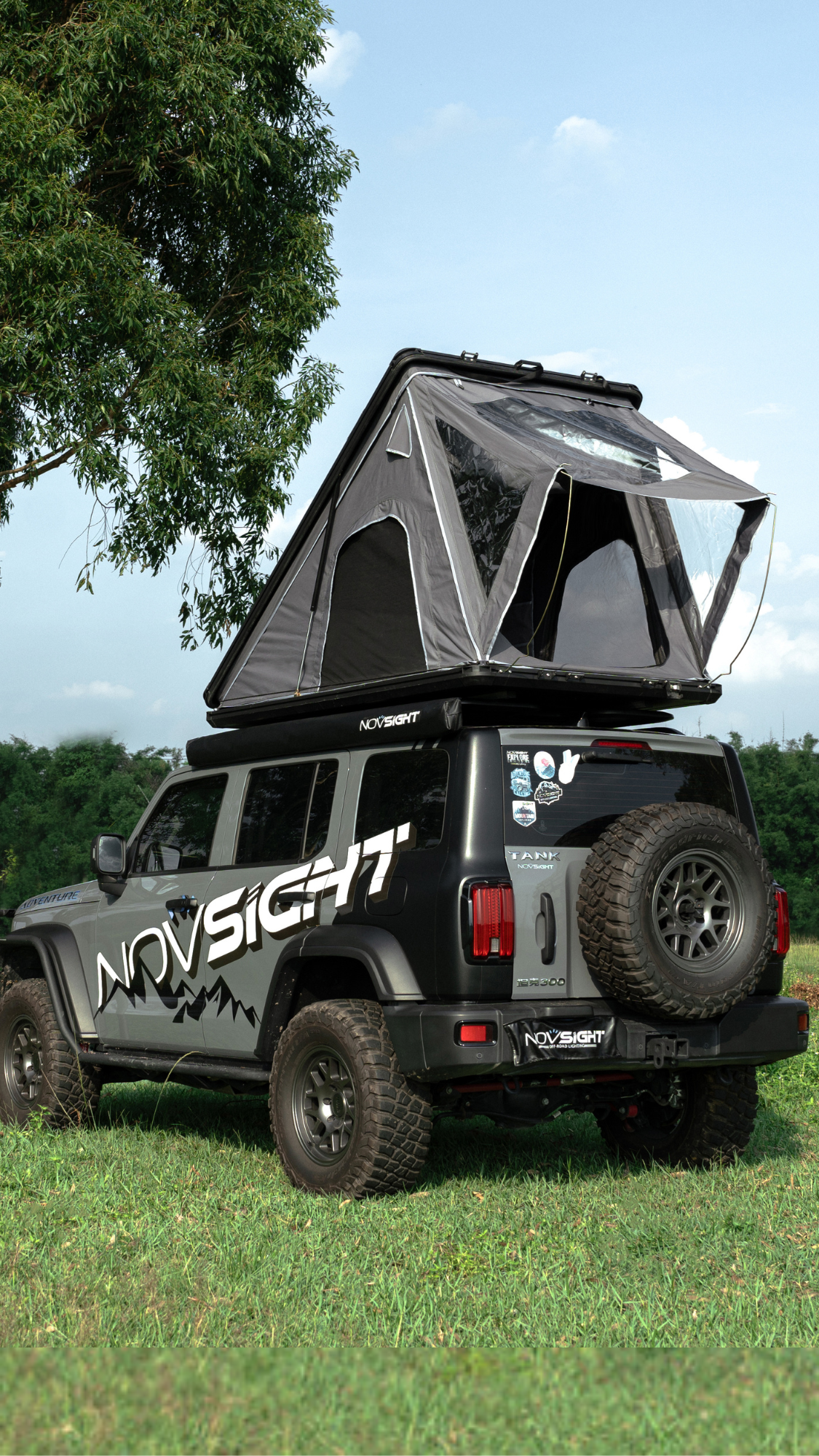 FAQ
If you have any questions, please have a quick check here.
If your car meets or is similar to these conditions

* Roof luggage rack crossbar load capacity: more than 200 kg/440.93LBS
* The height of the crossbar from the roof: more than 8 cm/31.5 Inch
* Bar width: maximum width 120 cm/47.24 Inch
How long will it take to get my orders?

It depends on where you are. Orders processed here will take 5-7 business days to arrive. Overseas deliveries can take anywhere from 7-16 days. Delivery details will be provided in your confirmation email.
We always put our customers first and your satisfaction is guaranteed.

1. If you have ANY issues with shipping, product or service, please email us directly. We will solve the problem for you! Official email:service@novsights.com

2. Our Novsight Techs are here to serve you. Email us and our expert team will swiftly diagnose the issue and offer the best solution within 12-24 business hours.
Our customer support is available Monday to Friday: 8am-8:30pm.
Average answer time: 24h
This product is rated 5.0 of 5.0 stars.
It has received 9 reviews.
Good quality
I compared another one on Novisght online store, which one was a bit high priced and a bit heavy, so I chose this one, besides I like the transparent windows, I can see the outside at night, if you Don't like it, you can also cover it with a cloth
As for the accessories, sheer and shoe bags...yes, they've thought of everything. This tent comes with an integrated shoe bag. I can stuff my hiking boots or something into this bag. Very convenient and very good shoe bag, I can help it hang next to the ladder, so that I can carry and wear it conveniently.
Overall a good entry level tent. I would have given more stars if the mattress was more comfortable and the comforter was easier to remove. In fact, you need to spend more money and time to buy memory foam top cover, and solve the problem of not being able to easily open/close the doors on either side of the tent unfolded.
Nice mattresses
I love this tent, no more cold wet floors. Good mattresses, but if you like to sleep on your side and weigh over 200 lbs, get yourself a 1 inch foam topper. When you remove the top cover, you can watch the stars through the top opening. 4 interior pockets store small items. Sturdy collapsible ladder with easy-to-install flexible poles to secure flaps. I have shoe bags (not included). This thing is fairly tall and has a large surface so it collects a lot of bugs on the way, but is easy to clean. The Subaru Outback Wilderness Plus this thing doesn't fit in a normal garage, the combo is 1" taller. The interior is very dark and very insulated so you will get a lot of condensation on cold days so be prepared you will wipe off the water. Other than these little things, like I said - I love my tent.
Quite satisfied
The Novsight rooftop tent was easy enough to install with two people. The materials feel like they should hold up. I took this for a shakedown camping and it held up against a downpour. The inside remained dry under heavy rain and some wind. The raindrops on the rain fly were very loud though. Woke me up in the middle of the night. Otherwise, I am quite satisfied with how it held up.
Awsome tent
Awesome tent for family camping. We bought this tent for our family camping trip and we had a blast. It was big enough for us and our two kids, and it had plenty of room for our gear. It was very easy to open and close, and it stayed dry and warm inside. We loved the skylight and the awning, they added a nice touch to the tent. It was an awesome tent for family camping.I really like the design of its transparent window, which allows me to see the scenery outside the window clearly, even if I close the window, when I sleep, I can cover it with a cloth, it's great.
best customer service.
This tent in comparison to those out there for this price is well worth it. i wanted a good tent with the overhang and option to have the annex extend past the ladder. I have slept in it a few times and have had no need to improve the matress for sleeping. It is very comfortable as is. The company was on the ball with the shipping and purchase. I was contacted by phone by company and shipping company before getting the product. I was very happy with customer service.