Make your nighttime drives worry-free and more relaxed with this ultra-bright, reliable, and durable LED light replacement for your brake lights, turn signal lights, and backup lights.

Car signal light is equipped with 9 high-powered 3020 LED chipsets that can light up to 700 lumens. This makes them a lot brighter than traditional light bulbs which means that you'll have better visibility for all of your nighttime driving needs!
On most vehicles, the tail lights are red and the brake lights are a more luminous red.North American regulations say rear signal lights can be either red or amber.,some rear lights also include back up lights, which are white,choose the color you need.Reverse lights are a component of back light assembly,sometimes need to repair or upgrade.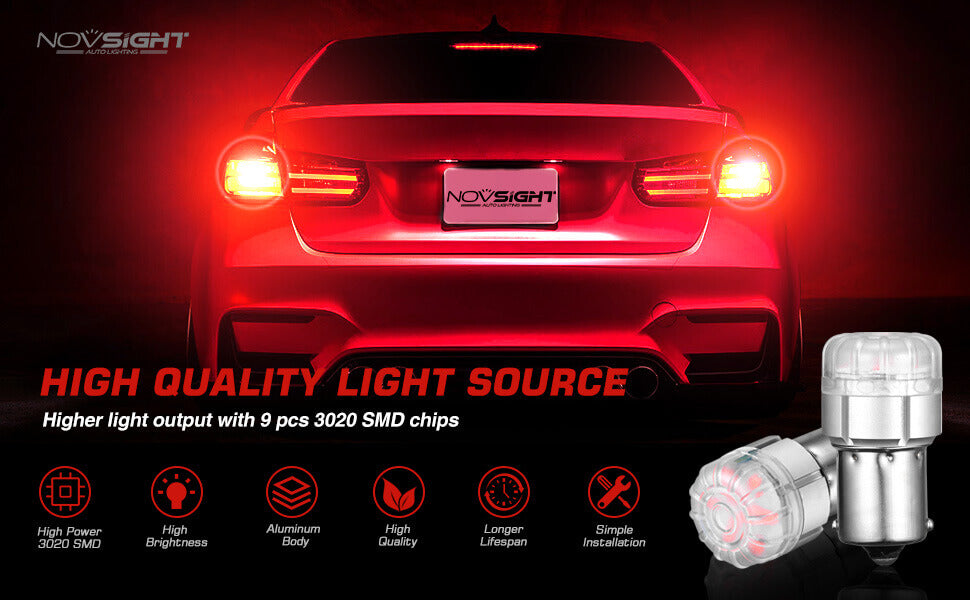 1156 Turn Signal Light Features
No Dark Spots, Less Glare
No more dark spots on the road, and you won't need to turn on your high beams just to see where you're going. Our bulbs will be just as bright at the low beam setting letting you drive safer and more comfortably at night.
Energy Efficient
LED lights do not generate heat as halogen bulbs do, which means they consume less power and produce less heat than traditional bulbs. So you're conserving energy while making sure that your car's engine and other components won't overheat.
Easy Installation
Our Turn Signal Light has a built-in load resistor for quick and easy installation. It also eliminates flickering or interference with onboard electronics. Plus, it has an IC driver that makes sure you can keep up to date with all the newest technology changes in the automotive industry.
Quick Heat Dissipation
To ensure quality and durability, our turn signal bulb are made with an aircraft-grade aluminum body that increases the bulb's heat dissipation capacity and helps prevent heat build-up.
Long Lifespan
Led turn signal bulbs with a lifespan of up to 50,000 hours, these LED bulbs will provide you with all the light you need to keep your vehicle safely on the road without ever having to worry about changing your lights again.Compatible with Most Vehicle CAN Bus.
ULTRA Bright
9 pcs high power 3020 led chipsets,288-700Lms,3 colors for choose, brighter than the original bulb. Energy-saving enhances luminous efficiency.
360° Shining No dark Spots No Delay 
Novisight 1156 backup reverse light bulb is an instant start, reliable enough, will not dazzle others when you are reversing
Quick Heat Dissipation
Aircraft-grade aluminum body built and unique bump appearance design increase the heat dissipation area. Wide voltage & constant current provide up to 30, 000 hours lifespan.
Plug & Play/ Easy Installation
Strong Light Penetration, High refractive concentrator
Similar size to the halogen bulb, non-polarity design, mini size design for easy installation, direct replacement, no wiring required.Replace turn signal bulb no longer a problem.
Upgrade Exterior Design
Base used aluminum can cool down the heat rapidly, extend the service time of the 1156 LED bulb up to 50,000hrs. With cover design, the NOVSIGHT LED bulb can glow equally, not emit harsh light, will not affect the following vehicles and road participants.
Canbus Error Free/Vehicle Canbus Compatible
Built-in Load Resistors & IC Driver
No error messages for 98% of vehicles models, CANBUS system prevents error code and odd flickering on most vehicles. Note: The bulb socket size may vary between trim of your vehicle, please double-check the owner's manual or original bulb size before ordering.
Reverse Lights
Back Up Light
Front&Rear Turn Signal 
Center High Mount Stop Light
Engine Compartment Light
Check all the bulbs size here
FIT SOCKETS
1003 BA15S P21W 1156A 1156NA 87 93 97 97A 97NA 199 631 1073 1095 1141 1195 1295 2396 3497 5007 5008 7506 12088 1295NA
Important Note

Please double check your vehicles manual or the original bulb to confirm the exact bulbs type

LED lamps have "+" and "-" terminals, if the LED does not light up, just simply flip it 180 degrees to reverse the polarity
Specifications
LED:9 PCS
Voltage: DC9V-18V
Input:620±40mA
LMS for White/Red/Amber Yellow:700/288/510
Shipping Policy
Orders Handling Time within 48 hours (excluding weekends).
US/CA/UK Area
Shipping Method
Conditions
Shipping Time
Costs
USA
USPS-Standard Shipping
<2.0 KG
7-8 Business Day
Free
USA
USPS-Standard Shipping
2.1-2.6 KG
7-8 Business Day
$5.00 
USA
USPS-Standard Shipping
2.61-2.9 KG
7-8 Business Day
$8.00 
USA
USPS-Standard Shipping
2.9-6 KG
7-8 Business Day
$9.99
UK
Royal Mail Tracked 48
<2 KG
7-8 Business Day
Free
UK
Royal Mail Tracked 48
2.1-2.6 KG
7-8 Business Day
$5.00 
UK
Royal Mail Tracked 48
2.61-2.9 KG
7-8 Business Day
$8.00 
UK
Royal Mail Tracked 48
2.91-6 KG
7-8 Business Day
$9.99
CA
Standard Shipping
<2 KG
7-8 Business Day
Free
CA
Standard Shipping
2.1-2.6

7

-8 Business Day

$6.00 
CA
Standard Shipping
2.61-2.9 KG
7-8 Business Day
$8.00 
CA
Standard Shipping
>2.91-6 KG
7-8 Business Day
$9.99 
INTERNATIONAL SHIPPING
DUE TO COVID19: International shipping options, tracking & delivery may be impacted
We've improved our international shipping methods to get you faster delivery and better tracking. If you have any questions,you can send mails to us.
*DUTIES & TAXES*
It is rare, but occasionally some customers may receive an invoice for duties or tariffs from their home country's customs agency.
The lights do not 

work properly

1.Check if the power connectors are properly

connected, and make sure that the vehicle headlight

switch is on the "ON" position.

2.Make sure that the vehicle's battery is fully

charged to supply power to the LED bulb.

3.Install the LED bulbs with the resistors (CANbus).

4.The resistor (CANbus) is polarity sensitive. If the

LED bulbs do not function properly after installation,

please reverse the resistor (CANbus) male

connector 180 degrees and try again.

One of the bulbs 

is not working

1.Make sure the connection is good. If one of the

bulbs still doesn't work, swap the left and right side

bulbs and test again.

2.Some series of car lights are polarity sensitive.If

the LED bulbs do not work properly after installation,

please reverse the connector 180 degrees and try

again.

The lights flicker 

or flash

Install the LED bulb with the resistors (CANbus) to

resolve the issue.

.

A warning lamp 

appears on the vehicle's 

system dashboard

.

This is a harmless side-effect of the low-wattage

LED bulbs not being recognized by the vehicle's

system and can be resolved with the installation of

an additional set of resistors (CANbus).

The light pattern is 

wrong after the car 

lights are installed

1. Check whether the lamp body is installed and

turned up and down. As H4, H13 and 9004/9007

models are installed separately from the top and the

bottom.

2. Check whether the lamp body is rotated in the

correct direction and locked in place after inserting

the locking ring.

There is not enough 

space for installation on 

the passenger side

For some vehicles, such as Honda CRV 2007-2014,

the headlight assembly on the passenger side is

very close to the fuse box, so there is not enough

space to operate the bulb installation. So we need

unclip and adjust fuse box for easier access during

the installation process.

.

Dust cover can not 

be installed back

For some vehicles, the light housing dust cover can

not be installed back after installing the LED lights.

In this case, you can consult our brand customer

service to request a modified dust cover for free.

The light bulbs is

difficult to rotate in place

.

For some vehicles, the light housing dust cover is

thick, which makes it difficult for LED bulbs to rotate

in place in the light housing. To solve this problem,

you need to forcefully push the LED bulbs into the

light housing and then rotate it clockwise.
Choosing a selection results in a full page refresh.