Street Legal: DOT SAE
Super bright, DOT & SAE compliant Jeep headlights for your 76-86 Jeep CJ-7, 97-06 Wrangler TJ, Wrangler JK 2 Door 2007-2015&4 Door Unlimited 2007-2015, & more vehicles with 7" Round Headlights see the below information.
9200 lumens on high beam, in a 6500K color temperatures.
For H6024 6254 & Jeep Wrangler JK TJ LJ CJ Hummer H1 H2 etc
Includes: LED headlight assemblies+Socket: H4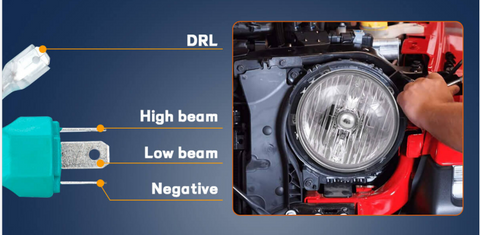 This 7 inch round head lamp are design with built-in chip set to produce more luminous beam on low beam and more luminous beam on high beam than conventional halogen head lights.

Wire Instruction
Our lights are just Plug N Play that is easy to install. Needn't be any modification.
For some special models, please check the below information in red text.
DOT Approved Headlights

DOT & SAE marking is clearly stamped on the lens of the lights. Compliance with the regulations of the US Department of Transportation, and guarantee that jeep led headlights are legal and safe drive on the road.

3 Lighting Modes & Perfect Beam

LED jeep headlights have 3 lighting modes of high beam, low beam, and daytime to meet your different needs! There are perfectly focused beam patterns, no blind and dark dim spots. Not one oncoming driver has flashed their lights at us.


Super Brighter Than Halogen

Upgraded cree led chips, 6500K cool white, 9200LM/high beam, and 5800LM/low beam, 5x7 headlamps angle eyes are brighter than original halogens. Shop these led lights for your jeep wrangler.

80000+Hours Lifespan & Efficient heat Dissipation

The cree chips exhibit less thermal resistance and reduce power dissipation better so they fast cooling. The distance between the cooling fans is 0.3 inches, and the lighting housing design with breathing speeds up the efficient heat dissipation. The jeep lights made of aluminum and PC lens, with corrosion resistance and anti-collision, perfectly replace 500+hours of halogens.

Jeep Light Easy Installation & Plug and Play

All-in-one design LED headlight assemblies same as original jeep lights, perfectly fit into your vehicles without any modification, just plug and play.
[ FOR THE CANADIAN MODELS ]

You may need to purchase a programmer to turn off the stock DRL function and wire halos to another power source.

[ NOTICE AND MODIFY NEEDED FOR SOME MODELS ]

2005 LJ (TJ Unlimited) need file the housing;
2006 TJ need light trimming with the Dremel;
2012 JK need modify the plastic headlight holder;
2017 Wrangler need make some modifications to make it fit;
2007 Wrangler need to use H13 (9008) HID Relay (Package not included)
2016 Wrangler 75th Anniversary Edition need to modify the bezel for the headlight;
2013 Wrangler the inner part of the headlight hole had to be elongated for the light to fit;
For some models like 2016 JK Wranglers. The high beams are staying on and flickering, unless turn on low beams or put the car in park, they just stay on. Solutions: You need an app(JScan) to disable the DRLs in order for the high beams to not be activated as DRLs.
DO NOT FIT FOR 2015 Wrangler; 2007 Wrangler Sahara JK; 2008 JK; 2006 TJ Rubicon; 1997 TJ; 2001 TJ; 1995 AM general H1; 2003 H2; 2016 JK Wrangler Sahara 4 door


FITMENT
For Jeep Wrangler TJ 1997-2006
For Jeep Wrangler CJ-7 1976-1986
For Jeep Wrangler JK 2 Door 2007-2015
For Jeep Wrangler TJ Unlimited/LJ 2003-2006
For Jeep Wrangler JK 4 Door Unlimited 2007-2015
For Jeep Wrangler JL 2018-2019 (Need add bracket: B07V7T1Q9T) Land Rover Defender 90 & 110
For Jeep CJ-8 Scrambler 1981-1985
For AM General Hummer 1992-2001
For Hummer H1&H2 2003-2009 (H2 needs 9007 male to H4 female adapter, package not included)


-Testimonials Pictures-
Specifications
LED Power: 150W
Lumens: 9200 LM/Kit (High Beam) & 6200LM/Kit (Low Beam)
Operating Voltage: 9-30V DC
Waterproof rate: IP67
Color Temperature: 6500K White
Material: die-casting aluminum
Lens Material: PC Lens
Lifespan: Over 100,000 hours
Socket: H4
Modes: High, Low, DRL
The suitable design for heating elimination.
High performance of tight waterproof, dustproof, quakeproof.
Dot SAE Approved
The valid irradiation distance is much longer than a normal bulb.
Shipping Policy
Orders Handling Time within 48 hours (excluding weekends).
US/CA/UK Area
Shipping Method
Conditions
Shipping Time
Costs
USA
USPS-Standard Shipping
<2.0 KG
7-8 Business Day
Free
USA
USPS-Standard Shipping
2.1-2.6 KG
7-8 Business Day
$5.00 
USA
USPS-Standard Shipping
2.61-2.9 KG
7-8 Business Day
$8.00 
USA
USPS-Standard Shipping
2.9-6 KG
7-8 Business Day
$9.99
UK
Royal Mail Tracked 48
<2 KG
7-8 Business Day
Free
UK
Royal Mail Tracked 48
2.1-2.6 KG
7-8 Business Day
$5.00 
UK
Royal Mail Tracked 48
2.61-2.9 KG
7-8 Business Day
$8.00 
UK
Royal Mail Tracked 48
2.91-6 KG
7-8 Business Day
$9.99
CA
Standard Shipping
<2 KG
7-8 Business Day
Free
CA
Standard Shipping
2.1-2.6

7

-8 Business Day

$6.00 
CA
Standard Shipping
2.61-2.9 KG
7-8 Business Day
$8.00 
CA
Standard Shipping
>2.91-6 KG
7-8 Business Day
$9.99 
INTERNATIONAL SHIPPING
DUE TO COVID19: International shipping options, tracking & delivery may be impacted
We've improved our international shipping methods to get you faster delivery and better tracking. If you have any questions,you can send mails to us.
*DUTIES & TAXES*
It is rare, but occasionally some customers may receive an invoice for duties or tariffs from their home country's customs agency.
The lights do not 

work properly

1.Check if the power connectors are properly

connected, and make sure that the vehicle headlight

switch is on the "ON" position.

2.Make sure that the vehicle's battery is fully

charged to supply power to the LED bulb.

3.Install the LED bulbs with the resistors (CANbus).

4.The resistor (CANbus) is polarity sensitive. If the

LED bulbs do not function properly after installation,

please reverse the resistor (CANbus) male

connector 180 degrees and try again.

One of the bulbs 

is not working

1.Make sure the connection is good. If one of the

bulbs still doesn't work, swap the left and right side

bulbs and test again.

2.Some series of car lights are polarity sensitive.If

the LED bulbs do not work properly after installation,

please reverse the connector 180 degrees and try

again.

The lights flicker 

or flash

Install the LED bulb with the resistors (CANbus) to

resolve the issue.

.

A warning lamp 

appears on the vehicle's 

system dashboard

.

This is a harmless side-effect of the low-wattage

LED bulbs not being recognized by the vehicle's

system and can be resolved with the installation of

an additional set of resistors (CANbus).

The light pattern is 

wrong after the car 

lights are installed

1. Check whether the lamp body is installed and

turned up and down. As H4, H13 and 9004/9007

models are installed separately from the top and the

bottom.

2. Check whether the lamp body is rotated in the

correct direction and locked in place after inserting

the locking ring.

There is not enough 

space for installation on 

the passenger side

For some vehicles, such as Honda CRV 2007-2014,

the headlight assembly on the passenger side is

very close to the fuse box, so there is not enough

space to operate the bulb installation. So we need

unclip and adjust fuse box for easier access during

the installation process.

.

Dust cover can not 

be installed back

For some vehicles, the light housing dust cover can

not be installed back after installing the LED lights.

In this case, you can consult our brand customer

service to request a modified dust cover for free.

The light bulbs is

difficult to rotate in place

.

For some vehicles, the light housing dust cover is

thick, which makes it difficult for LED bulbs to rotate

in place in the light housing. To solve this problem,

you need to forcefully push the LED bulbs into the

light housing and then rotate it clockwise.
Choosing a selection results in a full page refresh.